Your waste service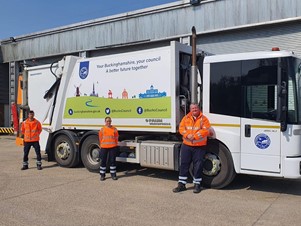 Buckinghamshire Council provides the waste services across the County which includes:
Household bin collections - Homes across the County have regular collections of recycling, garden waste, food waste and general waste. There are also collections for clinical waste, bulky waste and more. Visit the bin collections page at Buckinghamshire Council for more information
Household Recycling Centres - All residents can visit the household recycling centres across the county to dispose of waste. There are nine sites in Buckinghamshire and you can visit the Household Recycling Centre pages for more information.
Street cleansing - Buckinghamshire Council works hard to keep the streets clean. Litter picking, emptying of litter bins, clearing of illegally dumped waste are all part of keeping our lovely County clean. Find out more about these services here
Waste disposal - It is Buckinghamshire Councils duty to manage all the waste produced by household from the moment of collection until it has been recycled, composted or disposed of safely. Find out what happens to your waste here
Promoting waste reduction - It's important that we all try to reduce how much waste we produce. Buckinghamshire Council works with local community groups, commercial partners, schools and more to help people make changes to their behaviour that reduce waste. This website has more information on how you can do that.
Buckinghamshire has a Waste Strategy that was developed as part of the Buckinghamshire Waste Partnership. You can view the Waste Strategy here.