Home Composter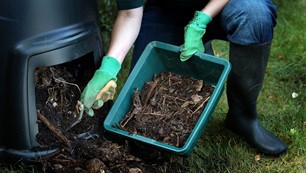 Composting is an inexpensive, natural process that transforms your kitchen and garden waste into a valuable and nutrient rich food for your garden. It's easy to make and use.
Your compost is a nutrient-rich food product for your garden and will help improve soil structure, maintain moisture levels, and keep your soil's pH balance in check while helping to suppress plant disease. It will have everything your plants need including nitrogen, phosphorus and potassium and it will help buffer soils that are very acidic or alkaline. Compost improves your soil's condition and your plants and flowers will love it!
Step by step guide to getting started
Find the right site - Ideally site your compost bin in a reasonably sunny site on bare soil. Choose a place where you can easily add ingredients to the bin and get the compost out. 
Add the right ingredients - Have a container available such as a kitchen caddy or old ice cream tub. Fill your kitchen caddy or container with everything from vegetable and fruit peelings to teabags, toilet roll tubes, cereal boxes and eggshells.Take care not to compost cooked food, meat or fish.
Wait a while - It takes between nine and twelve months for your compost to become ready for use, so now all you need to do is wait and let nature do the work. Keep on adding greens and browns to top up your compost. If you need tips on how to speed up your compost, read these making compost FAQs.
Ready for use - Once your compost has turned into a crumbly, dark material, resembling thick, moist soil and gives off an earthy, fresh aroma, you know it's ready to use.
Use it - Don't worry if your compost looks a little lumpy with twigs and bits of eggshell – this is perfectly normal. Use it to enrich borders and vegetable patches, plant up patio containers or feed the lawn.
Get your a compost bin
There are lots of places to buy new compost bins, like garden centres or DIY stores. You can even get 50% off compost bins at www.getcomposting.com. You could not try looking at Freegle, online auction sites or local social media groups for second hand bins. You can even try making your own